Nov 12.11.2017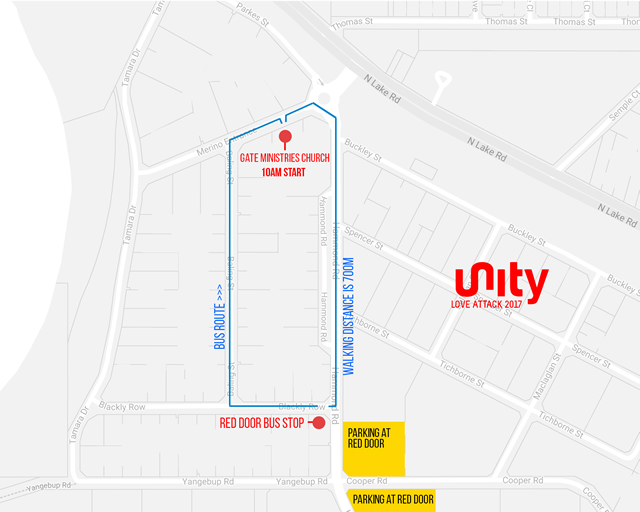 Love Attack 2017: 10am Sunday 12 November 2017

This years Love Attack location is Gate Ministries Church located at 7/5 Merino Entrance, Cockburn Central (click on map to enlarge) starting at 10am. Gate Church is 700m walk from Red Door. Parking is very limited on Merino Entrance, so we will be providing a shuttle bus from the Red Door Bus Stop on Blackly Row from 9.15am.

Top 10 things to remember

- Toilets at Gate Church are very limited, so please visit the toilet before church at home.
- Give yourself more time than usual to park and shuttle.
- No kidschurch will be provided, but colouring packs will be available.
- We will do our best to organise enough chairs, but its not a guarantee, (bring a hat).
- Come ready to give an offering to Gate Church on the day.
- Come ready to meet and encourage the community at Gate Church.
- Most will not know we're coming, so remember its your task to share what 'Love Attack' is.
- Lunch after church will be provided, so please hang around to encourage someone new.
- Returning shuttle will run from Gate Church back to Red Door from 12 till 1pm.
- There is no 5pm arvo service at Red Door today.

Why Love Attack?
Unity in the body of Christ is important to our Father in Heaven. He loves it when he sees His children getting along and encouraging one another. At Red Door unity is a core value that is not just reflected in our words, but in our actions. We desire to communicate to another local church community that they matter, they are loved and they are supported by the wider body of Christ. In addition to this we want to encourage this local community with Acts 18:9-10 as Jesus encouraged Paul "Do not be afraid; keep on speaking, do not be silent. For I am with you, and no one is going to attack and harm you, because I have many people in this city." Unity costs, it is not free, and we believe the extra effort a day like this takes, will be richly rewarded for all concerned as God promises that "unity commands a blessing" in Psalm 133.