About Us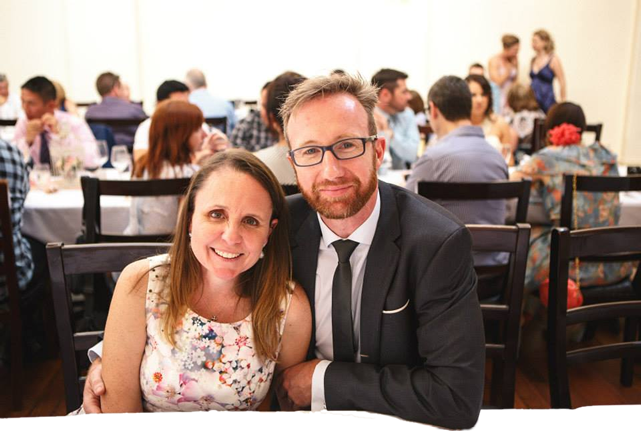 On the 3rd of June 2012, The Red Door Community Church opened its doors to a new adventure. Previously the community located here in Cockburn Central was known as the Southern Campus of Riverview Church. A decision by Riverview to release this campus to become its own independent community, saw Adam and Dale Meredith become the new Senior Ministers of The Red Door Community Church.
WHAT'S IN A NAME?
In the book of Exodus in the Bible a story is told. A true story. A story about a man named Moses and a story about a people. A people called the Israelites. God's people. God's people who were broken and in bondage and who were crying for freedom. Freedom from Pharaoh and freedom from Egypt. So God sent Moses with a message for Pharaoh – "Let my people go". But Pharaoh didn't listen. So God sent plague after plague to help Pharaoh to listen. He still didn't listen. So God sent a final plague which was more devastating than the other nine put together. Finally Pharaoh would listen.
The angel of death was sent to kill every first born in Egypt. In order for the Israelites to be spared from this plague God told them to paint the blood of a perfect lamb on the doorposts of their homes. The Red Door. This would be a sign to the angel of death to pass over their homes. So long as their doorposts were painted with blood their home would be a place of refuge when the plague came. They would be safe and they would be saved.
Now, skip forward a few thousand years to the story of Jesus. The story of His life. The story of His death. The story of Him conquering death. The death and the resurrection of Jesus is the completion of the Exodus story. Jesus is our perfect lamb and His blood was shed so that we all can be safe and be saved from death. He is our Red Door. In him we find salvation. We find refuge. We find hope. We find the answer.
Over the course of time a Red Door has meant many things but all with the same theme. In some countries a Red Door is a sign to travellers, to those lost and wandering, that here is a place of safety and refuge. A Red Door has signified that a house is paid for, debt free and clear. Red Doors were used in the Underground Railway where they were a sign of help and refuge to slaves escaping from America to freedom in Canada. Legend has it that Luther nailed his 95 Theses to the Red Doors of Wittenberg Church launching the Reformation.
We have named our church The Red Door Community Church as a call. A clarion call to the believers of this community to live lives that are a doorway to the hope of Jesus. We may not be facing plagues such as those in the Exodus story but in our city there is a plague. A plague of brokenness. Behind the doors of the people of our city there is abuse, violence, addiction, quiet despair, depression, suicide, anger, fear, greed, mindless materialism, apathy, divorce, broken families, broken hearts, broken spirits, broken minds. Brokenness upon brokenness. Brokenness like a plague.
May the Red Doors of this church and may the lives of the people of this church be a marker of hope and refuge to all broken, lost, hurting, seeking, beautiful people. Broken lives made beautiful. A city made whole. A plague of brokenness destroyed by grace. Jesus.
MISSION
His Kingdom come, His will be done, on earth as it is in heaven.
(Matthew 6:10)
PROMISE
From now on I'm alert day and night to the prayers offered at this place. Believe me, I've chosen and sanctified this Temple that you have built: My Name is stamped on it forever; my eyes are on it and my heart in it always.
(2 Chronicles 7:15-16)
STRATEGY
Love the Lord your God with all your heart and with all your soul and with all your mind and with all your strength and love your neighbour as yourself.
(Mark 12:30-31)
WHAT WE VALUE MOST
Redeem.
:to see people brought into the Kingdom of God.
Through the preaching and teaching of God's word and through the proclamation, in word and in action, of the Gospel of Jesus Christ we will see precious souls brought from the Kingdom of darkness into the Kingdom of Light. We will do all we can and we will dedicate ourselves to be all that God is calling us to be, so that we may be vessels and that we may be a church through whom the saving grace of God is poured out.
Restore.
:to see lives restored, healed and transformed.
Discipleship. We each carry a mandate to be a disciple and to disciple. We grow when we extend the heart and hand of Jesus to another. As people grow in their knowledge of God and in their relationship with Jesus lives are transformed for the glory of God. Chains are broken and captives are set free. We will be a well lit city on a hill. People will know that through our doors there is a place of refuge, acceptance, love and healing.
Release.
:to see people equipped and released into the work that God has for them to do.
We are spiritual contributor's not spiritual consumers. The church does not exist for us. We are the church and we exist for the world. We are a body and we each have a God given mandate to fulfill so that body can thrive. For some that is within this community for others it is beyond these borders. We desire to see people equipped, resourced and sent into whatever mission field God has for them.
Rely.
:to be fully dependent upon God.
The work of this church will not be accomplished by our strength, by our clever plans or by our striving but by "my Spirit says the Lord". And yet we will gladly give all of what we have and all of who we are, completely submitted and surrendered, trusting in God's guidance, faithfulness and provision. This is His church. The Lord will build this house. We will not labour in vain.
Request.
:to be people of prayer.
The prayer of the person who is in right standing with God is powerful and effective. We follow Jesus and just as Jesus was a man of prayer we, His disciples, are people of prayer. In prayer we talk to God, we listen to God, we are guided by God and we are empowered, envisioned and transformed by God. Everything that we do will be undergirded with prayer and more prayer.
Real.
:to be authentic and transparent.
The power of transparency is far greater than the power of perfection. We will bring our absolute broken best to all that we do. We will seek to bring honour and glory to God by being exactly who He made us to be. We do not seek the praise and approval of man. We serve God only. This is a performance free zone.
Relationship.
:to do this life together.
We embrace that we are a part of something much greater than ourselves and that we have a great part to play in God's unfolding story. There is great power in community and especially in a Jesus centered community. We share of all who we are and all of what we have – our blessings and our burdens, our laughter and our tears.
Relax.
:to have fun and to not take ourselves too seriously.
Nothing is more fun that to serve God with the people you love. Nothing! To truly know Jesus is to know Joy. This is a place of deep joy, raucous laughter and great rejoicing. We are a people who live in the freedom that Christ won for us. To not have truly grateful, thankful and rejoicing hearts, even in the midst of our very imperfective lives, is offensive when faced with the price Christ paid for our salvation and freedom. We are a people who receive and share the abundant life Jesus came to give.